In today's increasingly competitive business environment, staying ahead of the game is getting harder. In addition to needing to market everywhere, and provide competitive products and services, businesses also need to provide an outstanding customer experience. Part of how they do the latter is with CRM Software – which, when used right, helps businesses acquire, nurture, and win more deals through great customer experiences. If you're just starting your journey to find a CRM solution and need help choosing the right software, click here to learn about things you should consider evaluating.
Although most businesses have already adopted CRM, some find it challenging to implement. The challenge usually surfaces from needs evaluation, solution discovery, and price.
Larger organizations have a challenging time evaluating their needs
Requirements vary drastically depending on the complexity of the business's process – which usually scales with size. The bigger the company, the more the little things have an impact. For smaller companies, a sales process might consist of leads being assigned to whatever salesperson has the bandwidth to handle them. At larger ones, reps have responsibilities for specific products and stages of the pipeline, and deals get assigned based on those, as well as other strengths. Discovering all of these needs and requirements can create a barrier to starting down the journey.
Available solutions are often very different
Most CRM solutions are very different from one another. Though core features like contact management and calendars exist, the user interface, user experience, peripheral features, and support can differ widely. Identifying a solution with all of what you need, and none of what you don't, can be a challenging ordeal, especially since a CRM should also support your company's growth.
Pricing doesn't match usage
Most CRM solutions are only available in a one-size-fits-all-users model. That means your administrator user who needs access to everything pays just as much as your employee who only logs in to check the occasional status of a ticket. Most CRM vendors do not offer more granular pricing that more closely matches usage, which can dissuade businesses from considering them.
Vtiger's Mixed Pricing ensures that organizations only pay for what they need and what they will be using instead of purchasing the product as a bulk. So, now both small and large-scale organizations can improve their productivity and collaboration capabilities for a much smaller price based on their individual requirements. Thereby, eliminating some of the most common problems that businesses face today when planning to implement the CRM technology.
Vtiger's Mixed Pricing Model allows for three user types and the prices vary for each of them:
Standard User- Internal user who has access to all the modules (sales+marketing+support) included in the Vtiger edition.
Single-App User- Internal user who has access to one of the apps/modules (sales/marketing/support) in the Vtiger edition.
Light Agent- Internal user who has access to all the Essentials modules and Cases.
Here is a look at all the user types that are available for the different editions of Vtiger: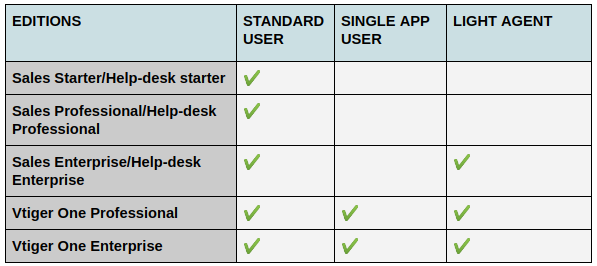 Benefits of mixed pricing:
Pay for the CRM functions each user needs, instead of everything for every user.
Focus user interfaces for users, without cluttering them with features the users don't need.
Learn more about our Mixed Pricing Model here and, or contact us to learn more about our pricing plans.
Still new to the whole CRM movement? Sign up for our free trial and experience Vtiger for yourself!