Does your profession involve traveling a lot? Well, work doesn't have to stop if you are traveling. Or, if you don't have
a computer and internet. Take your CRM with you and stay on top of your business.
The world is always on the move, and everybody's first point of contact is their phone, a reliable source of information. Since the pandemic started, most companies have encouraged their employees to work remotely. In this condition, a mobile CRM is essential for them as an excellent working option, and it is one of the CRM trends in 2021.
Introducing Vtiger CRM – an app that will change the way you work every day. It mirrors significant features and actions available on CRM's desktop version. It will aid you in managing your projects, sales, support, and marketing tasks on the go.
Our mobile CRM lets you stay in touch with your team, view essential details, and win deals on the move. You can also locate your clients, schedule meetings, create records, and more.
With a simplified UI, smooth navigation, and high-class performance, Vtiger CRM will transform your mobile CRM experience!
Benefits of Vtiger CRM mobile app
Vtiger CRM is your one-stop destination for your daily operations.
What could be more convenient? With this mobile app, you can access, update, share information with your co-workers and clients anytime, anywhere!
So here is a quick reveal about the wonders Vtiger CRM will offer you.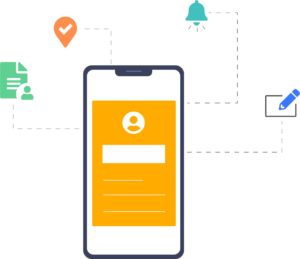 Using Vtiger CRM, you can,
See a unified view of customer data.
Get reminders and alerts about recent updates and upcoming events.
Create records for contacts, cases, organizations, etc.
Check in to onsite events.
You can download and install Vtiger CRM Mobile App from the Google Play store (for Android devices) and the Apple store (for iOS devices).
Vtiger CRM is a mini version of the desktop CRM. You can log in to the app using your CRM, Google, Apple, or SAML credentials.
Vtiger CRM mobile app – One for all, all for one
Vtiger CRM is a buddy that will never fail you or your team. Whether you are a part of Sales, Support, or Marketing, it is an app that backs all teams. Let us see how different teams in your business can use the app.

Sales
If you are a Sales Manager or a Sales Rep, installing Vtiger CRM will ease your CRM tasks and actions like never before. With Vtiger CRM mobile app, you can:
Plan and share your schedule with the help of Events.
Save time by searching the shortest route using the route planner.
Attend client meetings on time by locating nearby customers.
You can check in and check out of meetings and update the events.
Scan your customer's business cards and store the details in records.
Create lead and contact records with a click using Quick Create.
Close deals and send quotes for your manager's approval.
Support
Vtiger CRM mobile app is a boon for customer support executives. You can solve your customer's issues anytime, anywhere. Vtiger CRM mobile app enables you to:
Create Cases and report your client's issues.
View all details of your client using One View.
Respond to emails instantly and solve problems.
Add voice notes as comments and convey your thoughts in a better way.
Marketing
Vtiger CRM mobile app supports marketing team members in actively monitoring prospects' actions, strategizing, and formulating plans. You can use the mobile app in the following ways:
Send email campaigns and other ad-hoc emails to your prospects on the fly.
Use Actions, a vital feature in the mobile app to –

Track your customer's activity on your emails
Be updated with notifications and alerts
Be updated with notifications and alerts
Snooze and dismiss reminders
Broadcast messages to the whole organization
Reply to emails and mentions in a jiffy

Monitor your prospects' progress in Dashboards by analyzing the key metrics and graphs.
Leverage data from different views – List View, Summary View, Calendar View, etc.
Projects
Managing your projects and ensuring the work gets done on time is made easy with the Vtiger CRM mobile app. You can:
Create Milestones to mark stages of a project.
Use Tasks and Subtasks to organize your work.
Track time spent on each task using Timelogs.
To know more about Vtiger CRM mobile app, click here.
Here are a few other add-ons that will save your day:
Being up-to-date in today's day and age is very important. You can rely on push notifications in the app and stay up-to-date with all the activities related to your business.
You can refresh and update CRM data with just one swipe on the top of the screen.
Keep your most-used modules handy by saving them as Favorites.
Are you having internet issues? It will not affect your work. You can work offline and sync all the data once you are online.
Global Search will help you find them quickly with just a keyword if you do not have time to search your records.
You can also switch to the Dark Mode theme and enjoy the difference.
Hope we have motivated you to download and use the Vtiger CRM mobile app. This is just the beginning. We have a lot of other features coming up!
Stay tuned…