What do you think is essential for a business to enhance customer relationships? The key element is to have data handy for all the activities that a business undergoes. When you get insights on your deal health, team performance metrics, etc., you will be able to make informed decisions and establish true customer satisfaction. And, this is what CRM analytics does for you. It captures data from the CRM and provides valuable insights into the direction in which your business is moving. The Mckinsey report states that the 'actionability of insights' in a business contributes 92% to bringing a culture of value creation. In simple terms, it means you will be able to gain more customer value using the conclusion drawn from data by bringing them into action. CRM analytics is mainly used by team members, team leads, managers, executives, etc. of various departments. By having an analytical tool in CRM, you will be able to gain a 360-degree view of your customer data and maintain a record of customer interactions from various teams. This will help you provide data-driven insights for businesses to perform efficiently. Data-driven insights include reports of how your service is received in the market, customer behavioral patterns in a particular demographic, ideal method to convert promising deals into loyal customers, etc. But, what are the core metrics that are vital for business growth? To understand that deeply, let us divide these metrics into pre-sale and post-sale CRM analytics: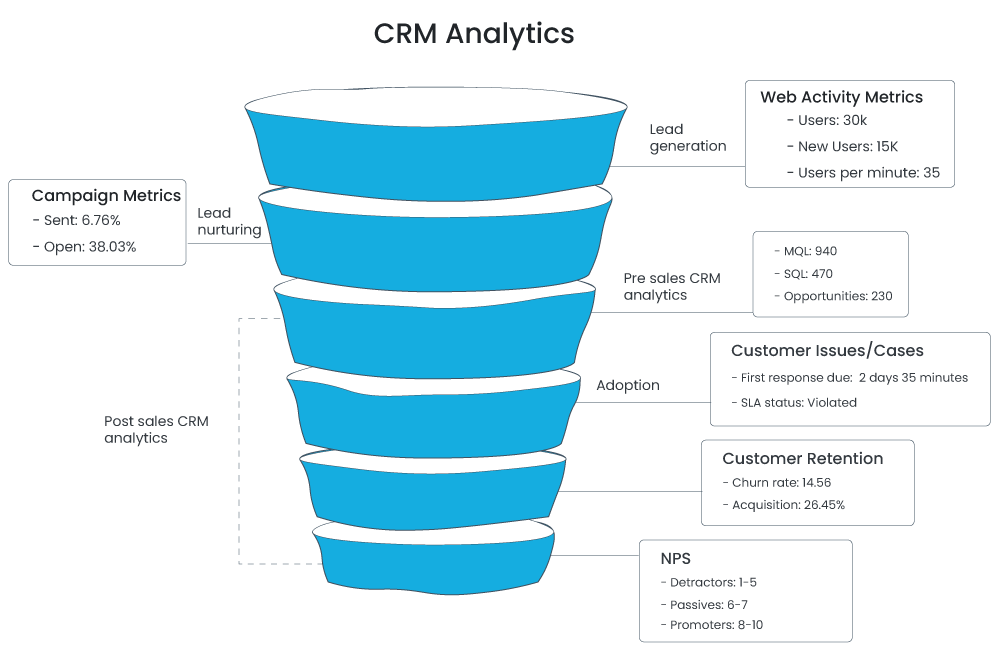 Mckinsey, the integration of customer analytics across multiple channels is the top trend to focus on. Some of the findings from KPIs confirm that intensive users of customer analytics are 23 times more likely to outperform their competitors. And also, if the CRMs are cluttered with redundant features, complicated UI, and manual data entry processes, the quality of data generated goes for a toss. For example, if you take the case of manual data entry, there is a high chance of making errors while filling out the details. Therefore, the data produced will also contain mistakes that will become difficult to trace and resolve quickly. Only a robust CRM with updated features can provide better analytical results. Vtiger CRM has designed its product that has easy to use interface and automated data entry system. It helps you provide accurate data and generate error-free reports that can be used to identify potential deals and forecast better. Take a test drive with Vtiger by signing up for a 15-day free trial to better understand analytical features.
How to find the right CRM analytics solution
A great CRM analytics tool should easily integrate with your existing business structure that helps in meeting set goals effectively. Vtiger provides a set of analytical features that can be molded as per your business requirements. For example, Vtiger Calculus AI provides sentiment analysis which means it gives insights on call quality, AI-powered Dashboards provide team performance metrics, Vtiger reports enable you to build reports from any given data, and much more.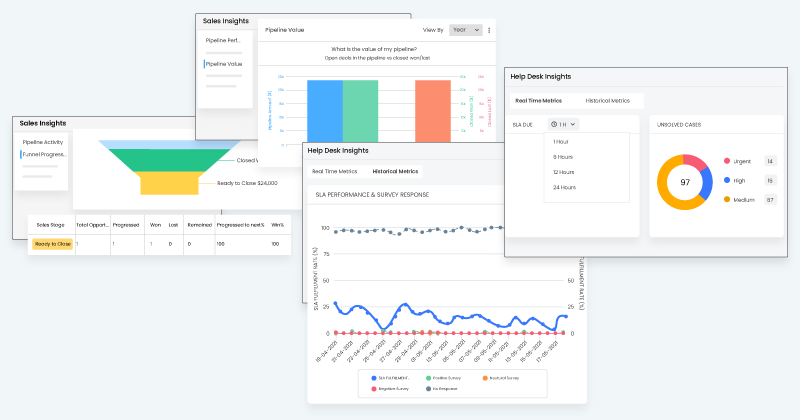 Click on the link to have a comprehensive idea about how Vtiger's analytical tools work and streamline your business for better ROI.