Knowledge has to be improved, challenged and increased constantly or it vanishes– Peter Drucker As Peter Drucker has rightly pointed out, acquiring knowledge and developing new skills are very important for overall success. Especially, with COVID being at the forefront for the last couple of years, the popularity of remote learning has witnessed a great surge. And, that is the reason why LMS industry is seen growing at a staggering rate. According to Fortune Business Insights, the LMS market size has grown from 5.33% in 2019 to 5.99% in 2020 which displays a major shift in the learning and training process. Learning management system (LMS) is a widely used term in the educational sectors and corporate enterprises to manage e-learning programs. Also, majority of the workforce prefers to have a flexible learning environment which is why an LMS tool is a must-have for businesses to execute employee, customer, or partner training effectively. With people getting drawn towards the self-learning method, having a knowledge base with updated and informative content is one of the solutions to carry out training and development programs. And, you can also use the LMS application to update your knowledge base with content in different formats. But have you ever thought about the possibility of integrating your LMS with CRM? LMS in itself is a standalone software that is used for creating, managing and delivering e-learning resources but if you are syncing them with a CRM, you can aim for business growth within a limited time. Wondering how? Let us understand them below
The importance of LMS integration in CRM for business
A CRM is an application that is primarily used to record customer information and manage business interactions. It is not just a tool to record customer information but you can also perform different activities like target marketing campaigns, prioritize leads, generate reports, etc using historical data. LMS on the contrary is a learning management software that can be used to deliver online courses to your customers or employees for upskilling programs, onboarding, etc. Now, by understanding the customer's history, don't you think you can use your top training programs for cross-selling and upselling activities, recommend customized courses, generate reports on learner performance or the number of enrollments, understand the type of courses your customers like, etc? Yes, all this is possible if you integrate your LMS with a CRM. For example, you can manage the entire learning cycle of a user from the point of initial contact, engage with your users with scheduled email campaigns or newsletters and finally track and generate reports on their learning progress with an LMS in CRM. The LMS integration in CRM has the potential to transform customer engagement, boost revenue and drive business in unbelievable ways. Let us dig down some of the benefits for better understanding.
Benefits of integrating LMS into a CRM
It is essential for your business to link user data into CRM. You will be able to address all queries related to training activities and nurture meaningful relationships with your customers, partners, and employees. Let us look at the benefits now: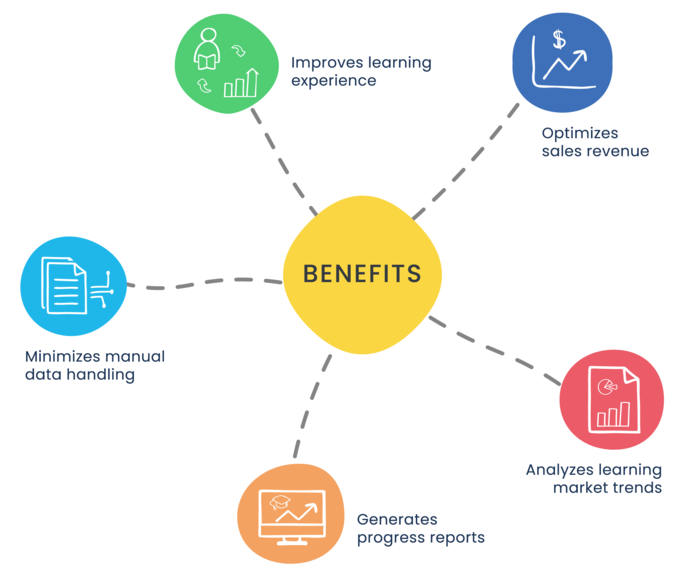 Centralizes data: When LMS is linked to CRM, it is pretty easy to collaborate across different departments by syncing data. For example, if the sales team wants to know who all are attending training sessions regularly, they need to wait for the report which is time-consuming. However, if you have an integrated system with centralized data, it will be accessible for anyone to refer to and take actionable insights. Initiates marketing of learning courses: With a unified customer view, sales reps can recommend courses based on customer behavior. Also, marketing teams can run different campaigns using the data and suggest programs frequently. In this way, your audience will get a chance to upskill themselves and gain information about your business in every possible way. Improves learning experience: With information being shared between CRM and LMS, users can log in to their learning platforms without much hassle. And, also if learners are able to gain theoretical and practical knowledge at the same time, they can retain the knowledge for a longer period which will increase the effectiveness of learning. Increases sales revenue: With personalized training recommendations, you can entice customers to take up your learning program and drive business revenue. By integrating LMS and CRM, you can have a simplified payment process that is faster as well. Minimizes manual data handling: You can save time by automating enrollment for different training programs. With the information stored in CRM, you can directly get access to customer details and reduce the process of filling out forms before enrollments. Generates actionable insights: Mostly, CRMs come with an in-built analytical feature. You can avail this feature to track the learning status of users, generate performance reports, and understand the gaps. You can monitor users' progress at ease by using an LMS in a CRM.