One of the biggest challenges startups face today is becoming visible to the customer. With over 386,400 startups emerging annually in the U.S. alone, it's easy for a start-up to get lost in the crowd. You may have built a better mousetrap than your competitors, but if you don't put in some effort to get it to your potential customers, then the chances of the world beating a path to your door are very lean.
Startups should consider marketing to reach their target audience. Early marketing provides some exposure to startups and helps build interest among its potential customers. Startups like Airbnb have used creative marketing hacks (one explained in the later part of this article) to reach a million users in a short span of time. PR, blogging, social media, emails, partnership and many more marketing strategies have helped startups survive and thrive in the highly competitive world. Startups like Overto that had to shut down within a brief period of the launch have listed poor marketing as one of the primary reasons for the failure.
Startups when creating marketing strategies should consider the below-mentioned elements to ensure that they are reaching out to the rights set of audience.
Define your market
The marketing strategies must be planned keeping the potential users in mind. For instance, let's consider a hypothetical startup – Blossom in a flower decoration industry. For Blossom, the target audience is the residents of that area who are seeking florist for a special occasion. But not all residents look for the same kind of flower decoration, so Blossom has to segment its target audience based on gender, age, occupation, income, and other factors. Blossom has to understand from where will most of its sales come from – is it from customers that buy flowers on a regular basis for home decoration or from customers that buy flowers during holidays and seasons to send it their loved ones. This level of detail will help Blossom to design marketing campaigns that will appeal to the segmented audience.
Further, the startup has to identify at least one feature that distinguishes itself from its competitors. In our example, Blossom has to analyze carefully what their competitors are offering to understand what underserved need it has to fill. Perhaps, it might be quick and reliable delivery. So, customers seeking fast delivery become hot leads for Blossom.
Create a marketing budget
Since startups are new to the industry, they have limited funds, no established customer base, or reputation. This means they have limited amount of cash flowing in and out of the business. So when it comes to marketing spends, startups are in the biggest catch-22.
According to Iowa State University recommendations:
A new startup should spend between 20 and 30 percent of their total annual budget on marketing during the first couple of years.
Once the startup makes a successful entry in the market, 10 to 20 percent of the annual gross sales should go for marketing.
Once the business is well established, 7 to 10 percent of the annual gross sales is must be spent on the marketing efforts.
Here is an article that you could refer to Calculate your ad budget
Know what works for you
Successful businesses monitor their marketing strategies very intently to identify what is working and what is not. Marketing documentation helps startups identify marketing strategies that compel the target audience to make a purchase. By validating marketing strategies, startups can confidently increase marketing budget to tweak successful strategies and work on to re-strategize the ones that are not bringing in expected results. This helps startups eliminate guesswork and plan the marketing spends well within the limits but still get optimized results. After all, it makes no sense to be investing a huge amount of money in Google ads when most of your best-fit customers are coming from reading your blog.
Use tools like Google Analytics to measure engagement metrics like site visits, page views, bounce rate, average time on site, pages per visit and percentage of new visits. Use this data to test and optimize your website content and design to improve conversion rate.
Integrate to scale
Strategic partnerships have helped startups sustain their business growth and scale its customer base. When Airbnb launched, though they provided more personalized and less fraudulent service, it saw that Craigslist enjoyed one advantage – the huge customer base. Airbnb identified its target market – people looking for rental listings – flock Craigslist. This inspired Airbnb implement one of its most successful marketing hacks – allow Airbnb users listing their property to post it on Craigslist too. This integration opened a huge opportunity for Airbnb by bringing in the much-needed traffic. And because Airbnb had more reliable listing, the Craigslist users who now became aware of Airbnb, easily switched to its services.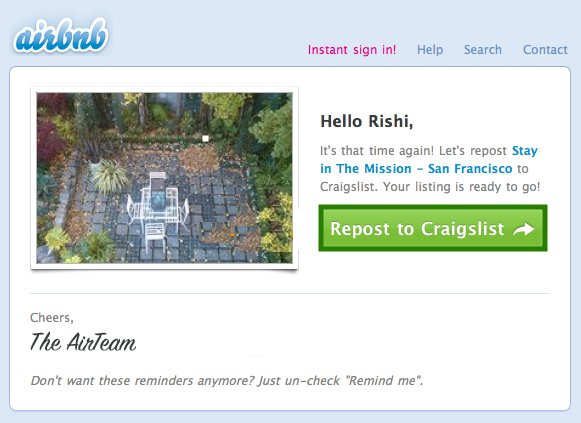 Image source
Get all your customer data into CRM
Startups, or any other company for that matter, have to leverage customer data to scale their marketing efforts. With Vtiger, startups can collect customer data in real time from social channels, feedback forms, and purchase records to make strategic marketing decisions. Vtiger acts as a single source that then can answer all customer related question. Startups can use this information to design marketing campaigns that are more likely to entice potential customers. For instance, you can use customer data to filter on and design highly personalized marketing emails that are more useful to their target audience, and result in stronger engagement.
Want to explore Vtiger's tools for marketers? Sign up for a
free 15 day trial
. If you have any questions along the way, then send us an email at support@vtiger.com