At Vtiger, we are always excited to look out for and adopt new technologies to help our CRM users work better. For instance, when Google announced Gmail's support for native 3rd party add-ons, we were one of the earliest CRMs to act on the news and build Gmail Addon.
Now, we have come across another exciting news – Gmail, Outlook, and other popular email clients recently announced that they will support AMP enabled emails. We are thrilled by the announcement because AMP allows you to send interactive and actionable emails to better engage email recipients. Whether you want to ask your customers to take a survey or browse your new catalog, AMP enabled emails lets your customer take action without having to move away from the email!
Having understood the potential this can hold for our CRM users, we have quickly jumped on this opportunity and enabled AMP for email notifications on comments. With this enhancement, we want to explore the potential that AMP enabled emails holds for our customers and identify opportunities to build on it.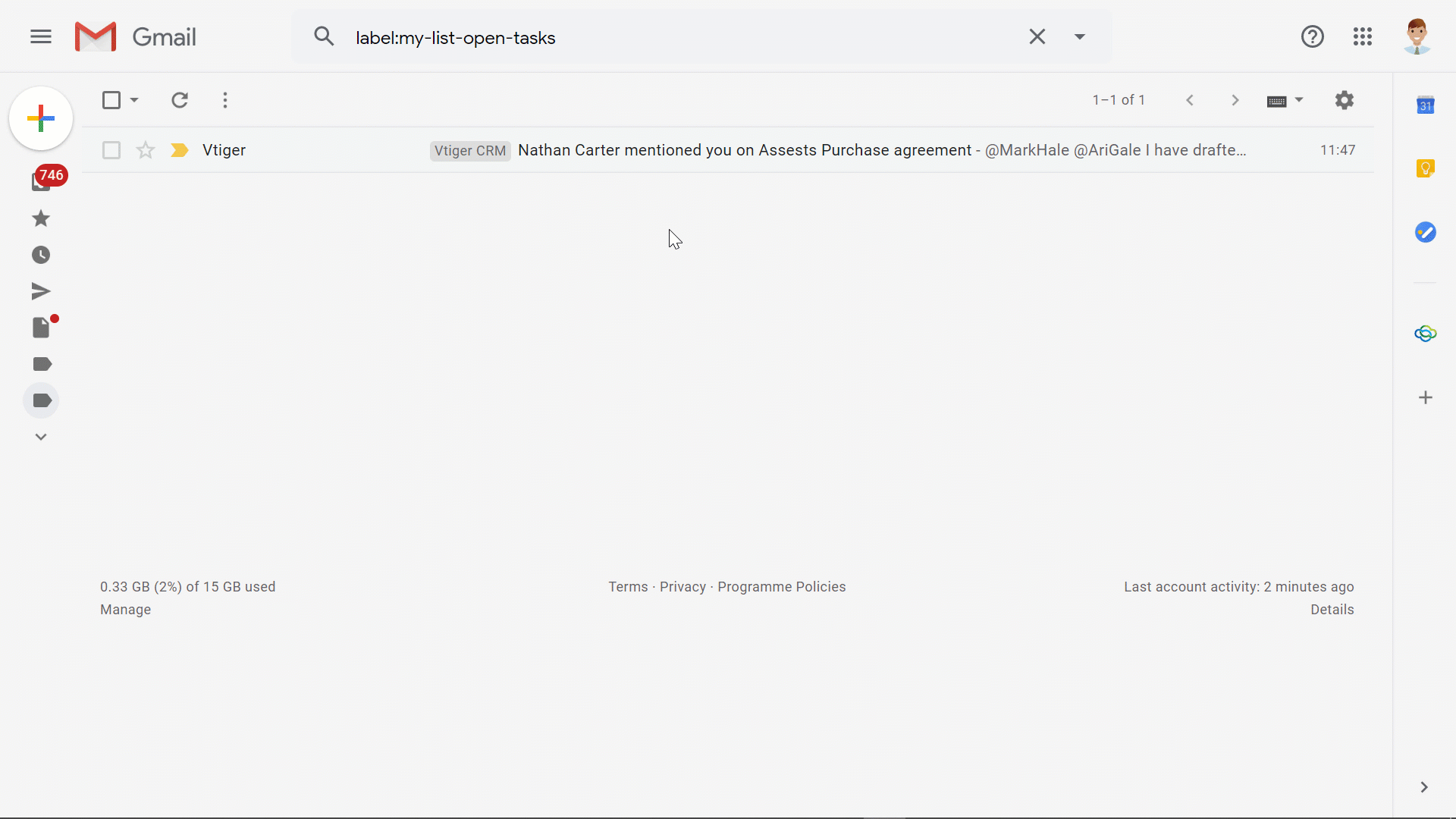 What is AMP for email?
Before we dive deep into how Vtiger supports AMP enabled emails, let's understand what is it all about. Google launched Accelerated Mobile Pages (AMP) as an open source project in 2016 for speeding up mobile page load times to provide better customer experience.
Using the same technical framework, you can now create dynamic emails which allow email recipients take actions directly in the email thread, avoiding the need to open a new tab for every action. For instance, you can send AMP enabled emails to let email recipients reply to a comment, respond to appointments, fill-up a survey, or browse a mini website within the email.
See latest comments before replying
Previously, when you received an email notification for a comment where you are mentioned, you had to open record in Vtiger CRM to view all previous comments. Now, if your email client supports AMP, you can view the latest replies to the comment within the email body. These replies are fetched in real-time whenever you open the email. Meaning, you will be better informed to send a better response. This not only helps you respond quickly, but also avoids clutter caused by opening multiple tabs for every email notification.
What's next?
With email users growth expected to reach 4.2 billion by 2022, AMP enabled email is a game-changer and holds a huge potential to make emails more engaging, relevant, and actionable. We see AMP emails as key enabler for our customers to improve email conversions. Here are a few ways how Vtiger users could benefit from AMP emails:
Get faster approvals: Approve quotes, budgets, expenses, or leaves on a click right from within the email.
Send out surveys and polls: Let your customers fill out forms or vote without leaving the email. In case of live results, respondents can view real-time responses.
Send out email campaigns: Send marketing emails that show real-time product pricing, offers and availability.
Schedule appointment: Allow your customers pick time slots in the email.
Manage subscription and opt-ins: Use AMP emails when instanct action such as verifying a subscription is required. Allow email subscribers to update their email preferences from the email.
For which of the above use cases would you like to use AMP enabled emails the most? Or do you have a new use case not listed above? Let us know in this survey or write to us at support@vtiger.com