Have you recently scanned a QR code to make a payment at a vendor kiosk? Or have you scanned the QR code at the airport to generate your boarding pass? Sounds familiar? Let us learn a little bit more about QR codes.
QR Code
A Quick Response (QR) code is a square-shaped two-dimensional (2D) matrix bar. It was invented in 1994 by a Denso Wave employee named Masahiro Hara for labeling automobile parts.
The QR code image consists of black squares arranged in a square grid on a white background. These horizontal and vertical patterns on the image store large amounts of data. This information can be read by image-processing devices such as cameras.
Why are QR Codes popular?
Studies say that more than half of the people on Earth have a smartphone. In 2020, the recorded number of smartphone users was 3.5 billion people worldwide, roughly 45.12% of the global population. In 2023, the number has risen to 6.92 billion people worldwide1, which is about 85.82% of the world's population.
Imagine the reach of the QR code if you used it for your business! QR codes can be used to access information instantly by all these users, wherever they are. They can make payments, access information like their boarding passes, use the code to show their identity, access discount offers, etc.
QR codes are highly beneficial if they are a part of a CRM solution. They can facilitate instant payment. It will help your customers to scan a code and make a payment in seconds. You can use QR codes to direct visitors to your website. QR codes can store customer information, and salespersons can use them to display information at their convenience. QR codes are going to be a part of CRM technology in a big way.
QR Code in Vtiger
The newly introduced QR code feature is available as an extension module in Vtiger CRM.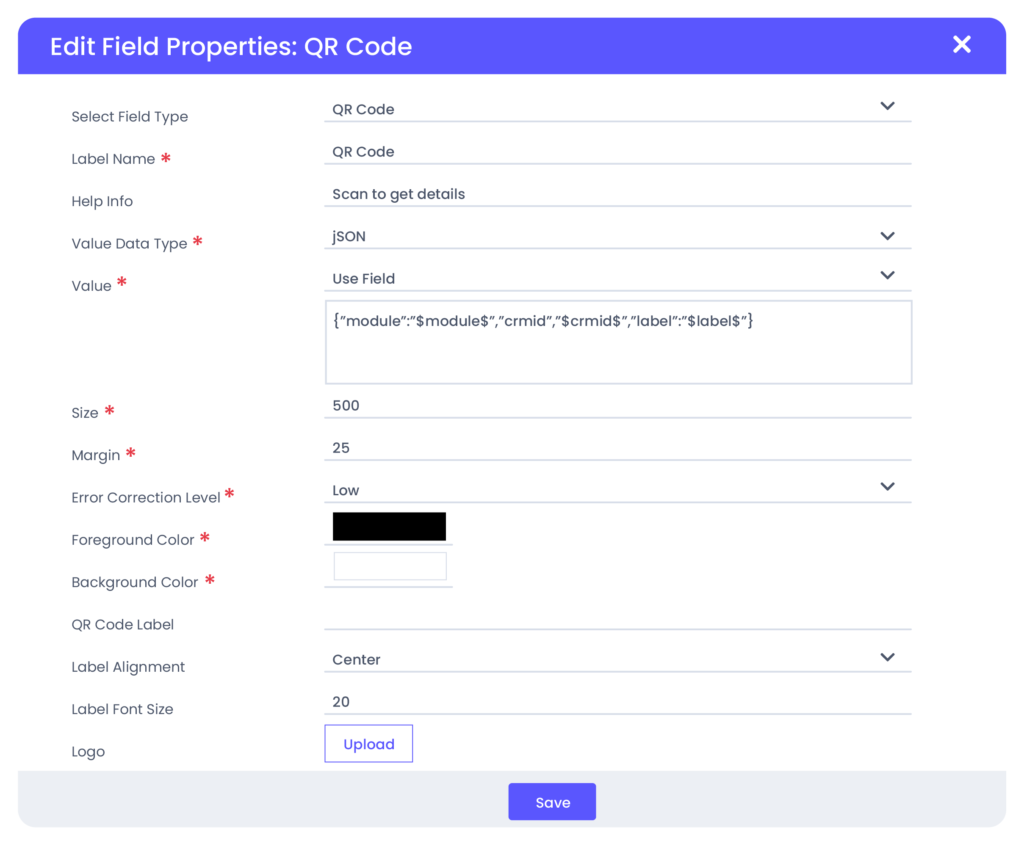 Available in all editions of Vtiger CRM, you can install it from the Extension Store. After installing the QR code module, you can add a single QR code field in any module in the CRM. You can add information from CRM data fields to the QR Code field by using the Merge tag. A QR code is generated dynamically for a record based on your configuration.
How does the QR code feature work in Vtiger CRM
After you generate a QR code, it is displayed in the Details View of a record. If you send this code to your customers, they can scan the code to display record-related data. For example, if a salesperson shows the QR code for an invoice to a customer, they can scan the code for invoice details and even make the payment.
You can include QR codes in email templates, print templates, and workflows and send them to your customers.
Notes: Masked and encrypted field values are displayed based on the permissions given to the user role.
Sample Use Cases
QR codes in Vtiger CRM can be used for a variety of purposes. Here are a few sample cases.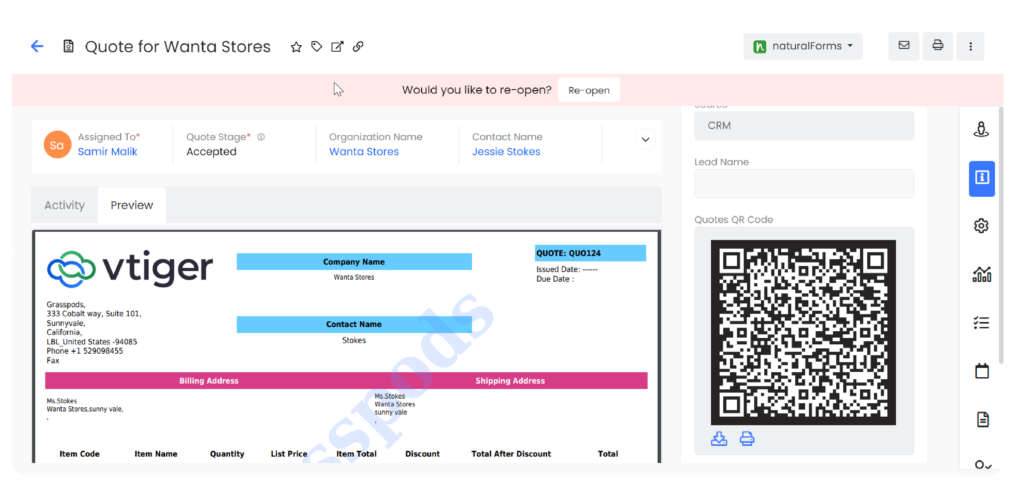 Creating a contact: You can create a QR code in the VCard format by adding contact or lead details. Scanning the code from a phone can create a contact in your mobile phone book automatically.
Booking appointments: You can create a QR code for booking appointments. The QR code will contain information from Appointment pages where the URL already contains contact details. On scanning the code, a customer can book appointments directly without filling in details like name and email ID manually. These details will be filled in automatically.
Quotes: You can create a QR code for your Quotes. The code will contain all the details related to a quote. On scanning a Quote, the customer will be able to view these details.
Invoice payments: You can create a QR code for making invoice payments using UPI. The amount will be picked from the Invoice field, and upon scanning the code, the amount and the name of the payee will be auto-filled. Payments are made directly because of the UPI.
Warehouse management: This is a custom development in Vtiger. For example, if the QR Code contains the sales order (SO) information, the code can be read to extract information and update the SO status as delivered.
To learn about installing and configuring the QR code and about such limitations, read our article.
Why QR Codes are necessary for your business
They are affordable, work everywhere, and connect your employees and customers to information online.
They link physical items to your CRM. For instance, you can ensure that your salespersons can check for stock availability when they are visiting outlets.
They make it easy for people to access your brand and products through their smartphones.
Would you like to try out Vtiger's latest feature? If you have questions or need further assistance, feel free to ask ([email protected]) and/or request a demo.
---
Ref 1: https://www.bankmycell.com/blog/how-many-phones-are-in-the-world