Welcome back to another chapter in the blog series Big Little Things, where we highlight some of the lesser-known and sometimes overlooked features and enhancements in Vtiger CRM that pack a big punch. This post highlights the Dependent Fields/Blocks feature, which allows admins to set up dependencies on Fields or Blocks based on the values of other fields. Let's dive in and learn more about this feature.
What is the Dependent Fields/Blocks Feature?
As mentioned above, this feature allows admins to set up dependencies that will either show or hide Fields or Blocks on a record, based on the picklist values selected on other fields belonging to the same module. Let's look at an example:
A support manager who is an admin on their Vtiger account would like their support team to select from a list of values (Picklist) in a field called "Resolution Type" once a Case is marked with a Status of Resolved. They do not want this field to show on the record or to be filled out until the Case's Status has changed to Resolved. But, once the Case has been marked as Resolved, they would like this field to be mandatory and to be filled out before saving the record. The support manager can use the Dependent Fields/Blocks feature to hide the "Resolution Type" field until a user has marked the Case's Status field as Resolved.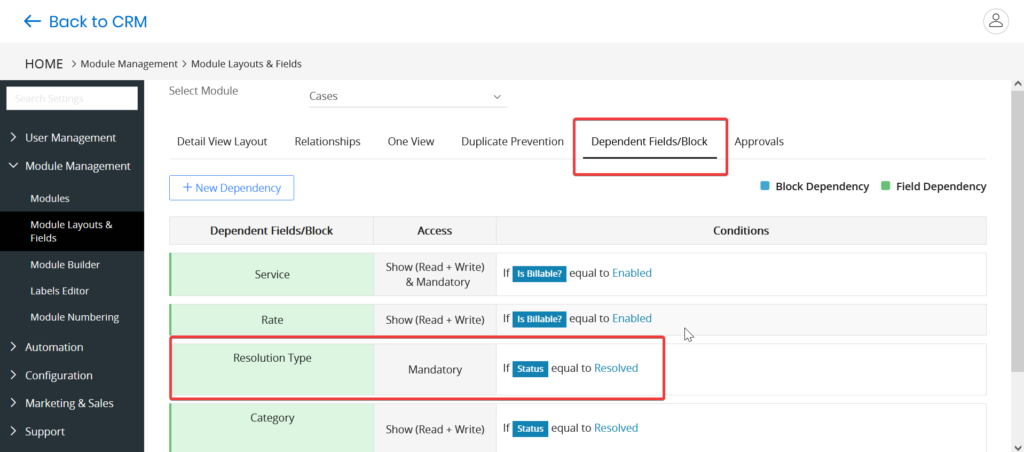 Benefits
The scenario above is just one example of how the Dependent Blocks/Fields feature can be used but the possibilities are limitless. They will also vary depending on a business's needs. Below are just a few additional benefits that users will enjoy once they implement this feature:
Declutter Records – Only show Fields and Blocks when they are relevant allowing for faster review and navigation.
Customization – Use custom fields and dependencies to ensure relevant data is being entered in the right field at the appropriate time.
Clear Processes and Workflows – Ensure your users are all following the same processes by setting up mandatory dependencies.
Data Accuracy – Users will only be able to enter data into Fields/Blocks when relevant values are selected in their related fields.
Where to Find the Dependent Fields/Blocks Feature
This feature is only accessible by admins on an account and can be located by going to the Settings Page and accessing Module Layouts and Fields under the Module Management column.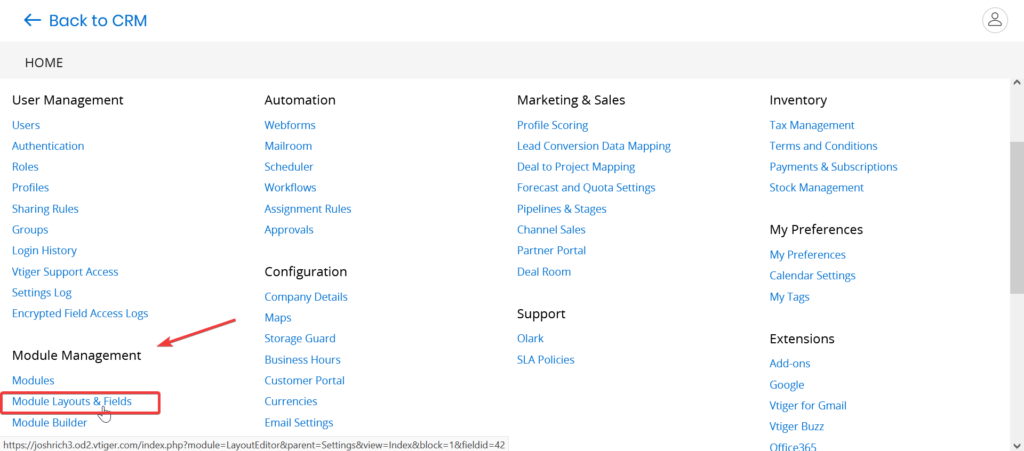 Once an admin is in Module Layouts and Fields they will need to select the module that they would like to work with (Cases, Contacts, Deals, etc…) and then click on the Dependent Fields/Blocks tab.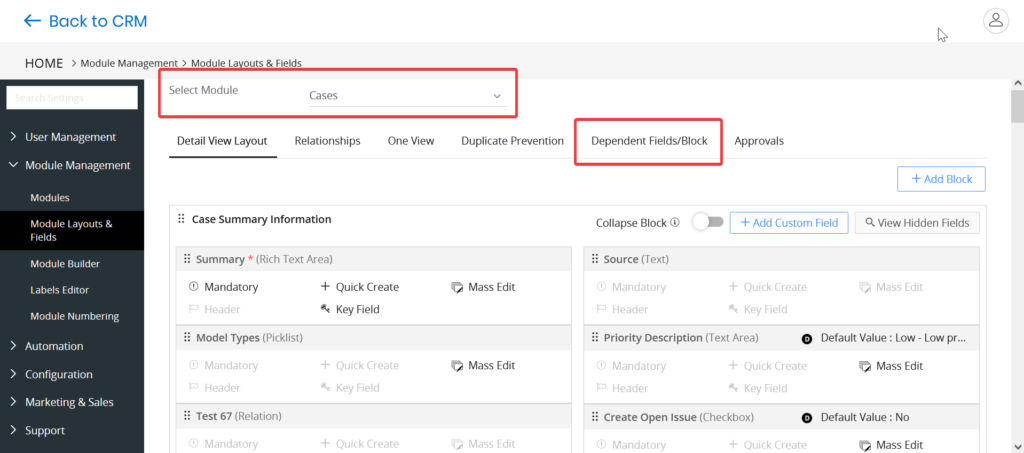 How to Use the Dependent Fields/Blocks Feature 
Once the Dependent Blocks/Fields tab is selected admins can begin to create their own dependencies to meet the needs of their sales, support, and marketing processes. They can also view all existing Field and Block dependencies created for the module they have selected.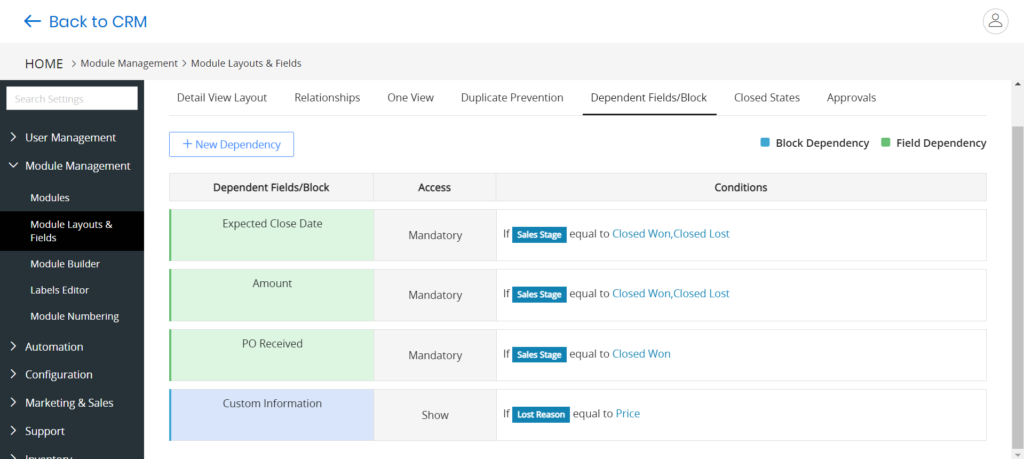 To Create a new Dependency, admins need to click on the "+ New Dependency" button. From there, they can select the Field or Block that they would like to make dependent on the Conditions they have selected. The Conditions created, when met, will determine when the Field or Block selected will be accessible to other users.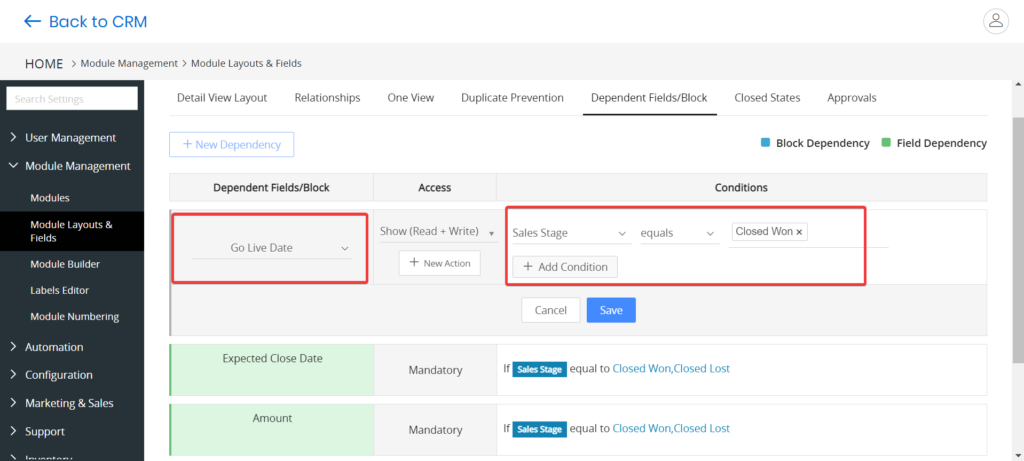 Next, the admin will need to select the type of Access users will have when the Field or Block becomes accessible. They can choose between:
Show (Read + Write)
Show (Read + Write) and Mandatory
Mandatory
Show (Read Only)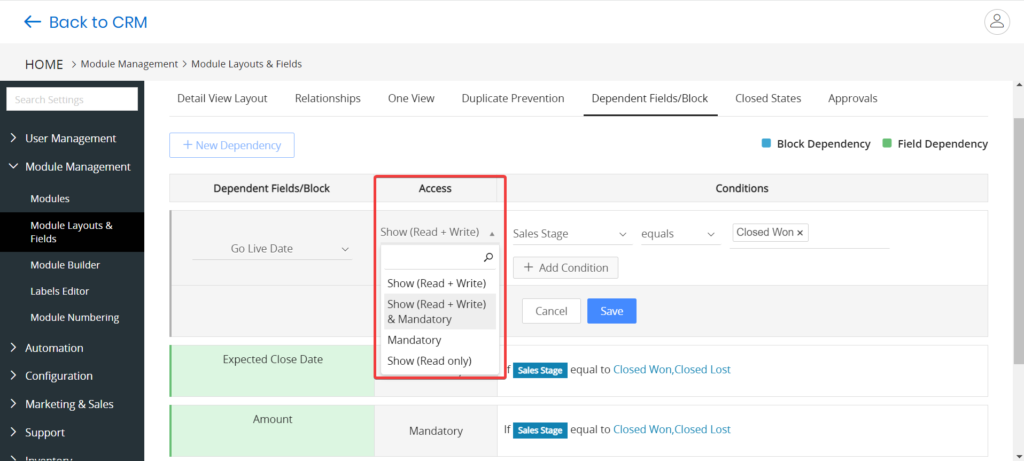 After clicking on Save, the Dependency will take effect for all users and will be added to the existing list of Dependent Fields/Blocks.
Another option Admins have is to edit or delete existing Dependencies. Either can be done by hovering the mouse over the existing Dependent Fields/Blocks and clicking on the Edit (Pencil Icon) or Delete (Trash Can icon) buttons.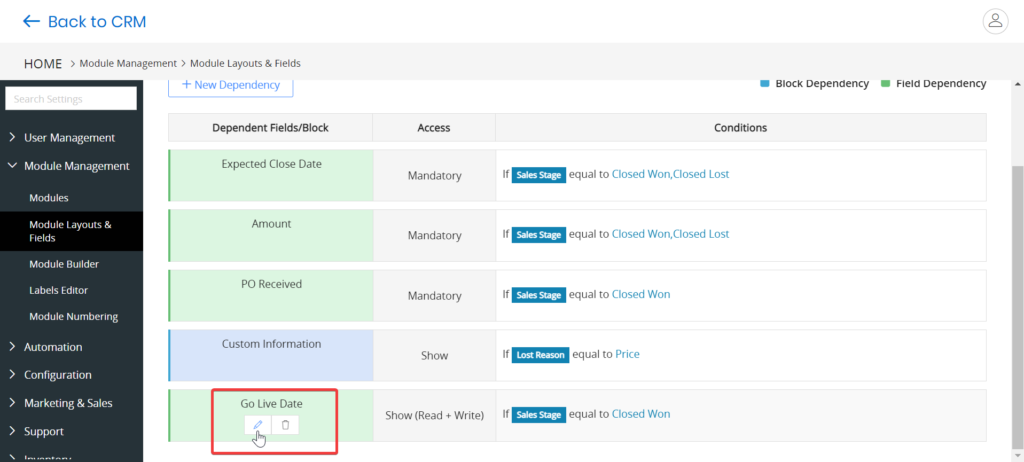 When Edit is selected, admins will have the option to change the Field or Block that is dependent, change the Access, and edit the existing Conditions or add new Conditions.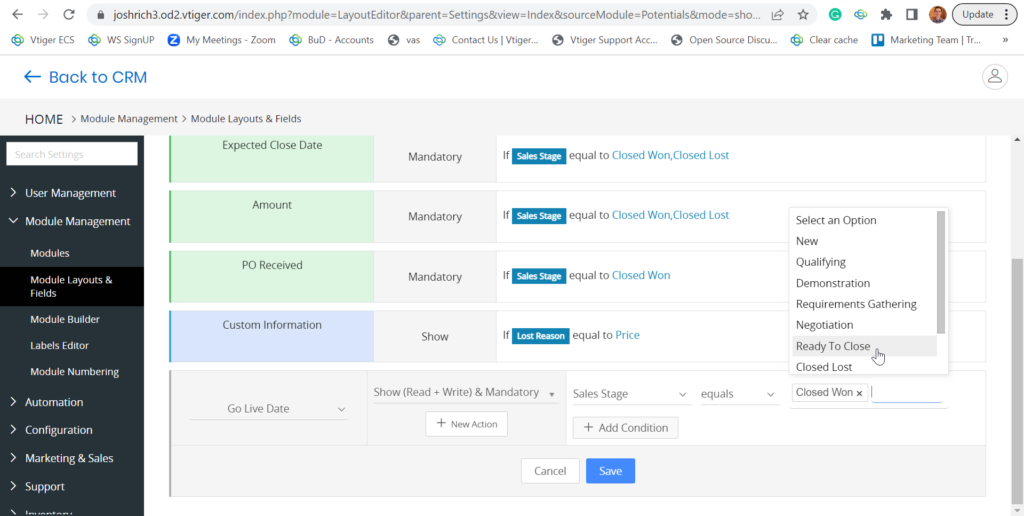 To learn more about the Dependent Field/Blocks feature, please review this Article.
Conclusion
Vtiger's Dependent Fields/Blocks feature is a game-changer when it comes to streamlining and enhancing data management. The ability to hide or display fields based on predefined conditions not only simplifies data entry but also enhances the user experience. With Vtiger's Dependent Fields/Blocks feature, businesses can optimize their CRM processes, boost productivity, and gain valuable insights from well-organized and consistent data. It's an indispensable tool (Though sometimes overlooked) for businesses looking to take their data management to the next level.
Take Vtiger for a Test Drive Today
Click here to sign up for a 15-day free trial or try our forever free Pilot edition