Welcome back to another chapter in the blog series Big Little Things, where we highlight some of the lesser-known and sometimes overlooked features and enhancements in Vtiger CRM that pack a big punch. This post highlights the Grid Edit feature, which allows users to edit records directly from List View. Let's dive in and learn more about this feature.
What is the Grid Edit Feature?
The Grid Edit feature allows users to edit and save field values on multiple records, all from a single screen while in List View. Grid Edit provides the user with a tabular view of their records and allows users to assign different values to different records without having to enter or open the record.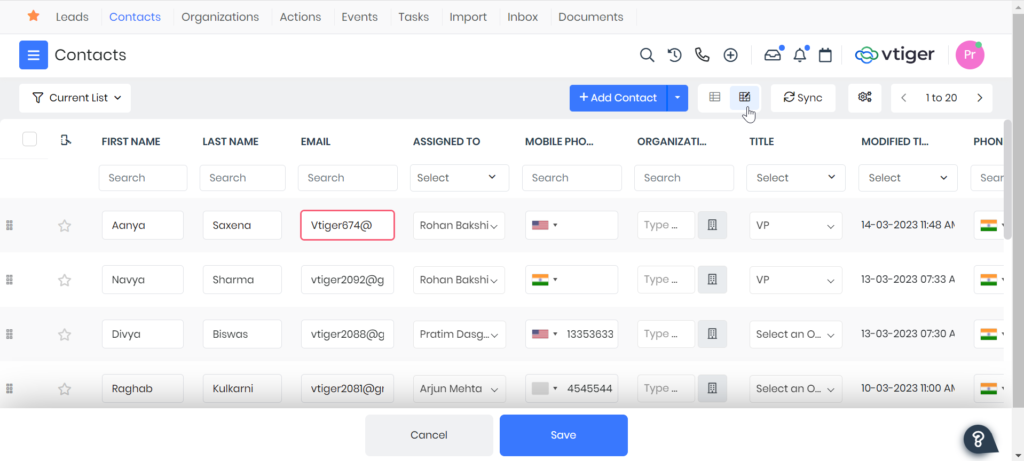 Benefits of Using Grid Edit
Listed below are just a few of the ways users and organizations can benefit from using the Grid Edit feature in Vtiger:
Save valuable time by allowing your users to edit on the fly, enabling them to focus their energy on more important tasks
Edit multiple fields on multiple records in one shot from the same screen
Ensure you are editing the right records by using search filters or by creating custom lists before editing
Quickly edit fields that are most relevant by managing columns in List View
Grid Edit Use Case
A sales manager needs to reassign Contact records for prospects who are located in specific states in the U.S. to a sales representative (User) assigned to that region. The manager also needs to update the country code on the phone number field for these Contacts. Instead of having to open and access each record one at a time for editing purposes, the sales manager can quickly create a custom list or apply search filters on an existing list to hone in on all the records they wish to reassign and edit. In just a few clicks, the sales manager can reassign one or many records to the appropriate sales rep and edit the country code without having to jump between records or leave the page.
Installing Grid Edit
The Grid Edit feature is a paid add-on and can be purchased and installed from the Vtiger Extension Store. Simply go to the Settings page from either the Main menu or the user Menu and click on Add-ons under the Extensions column. Search for the Grid Edit Add-on and click on Buy. Once purchased the Grid Edit feature will be available to all active users in your CRM instance. Please reference this Article for step-by-step instructions.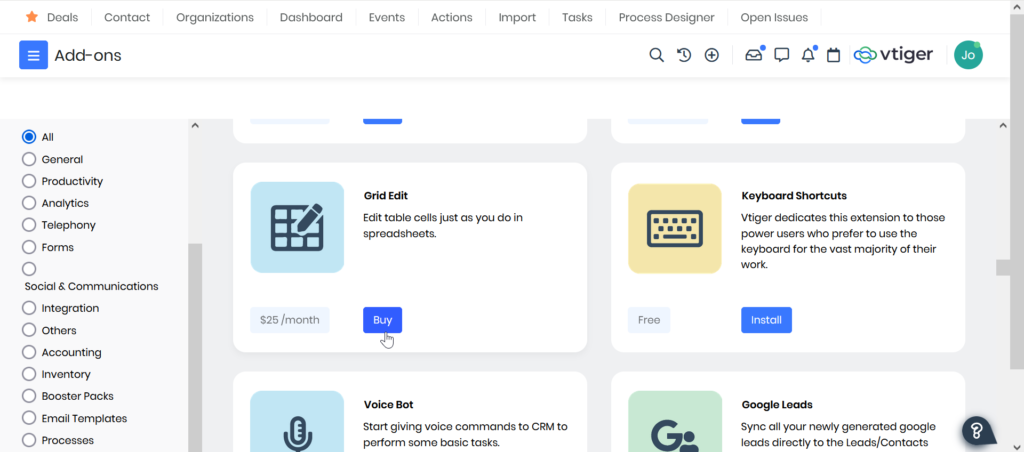 How to Use Grid Edit
After the Grid Edit feature has been successfully installed, users can enter any module where Grid Edit is permitted and click on the Grid Edit button located at the top of the record page. This will bring the user to the Grid Edit view.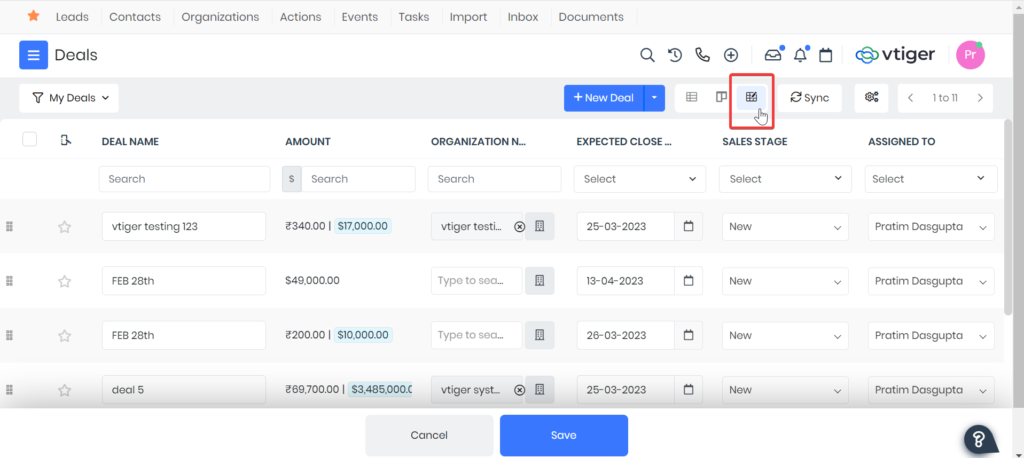 Next, users can toggle between their lists or use search filters to dial in on specific records that they would like to edit.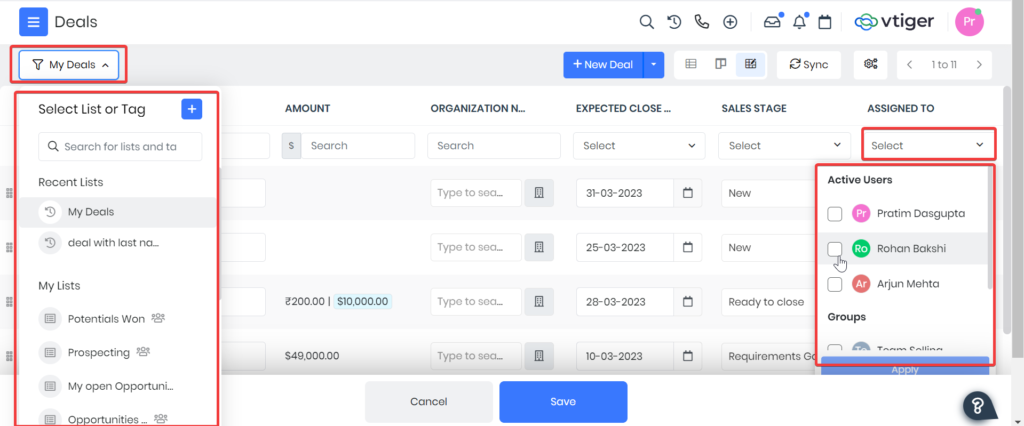 Lastly, users can click on the fields they would like to edit on any record located in the list. The changes will hold until the user has finished editing all desired fields/records. Once the user has finished editing, they can click on the Save button to save all changes or click on the Cancel button to cancel all changes.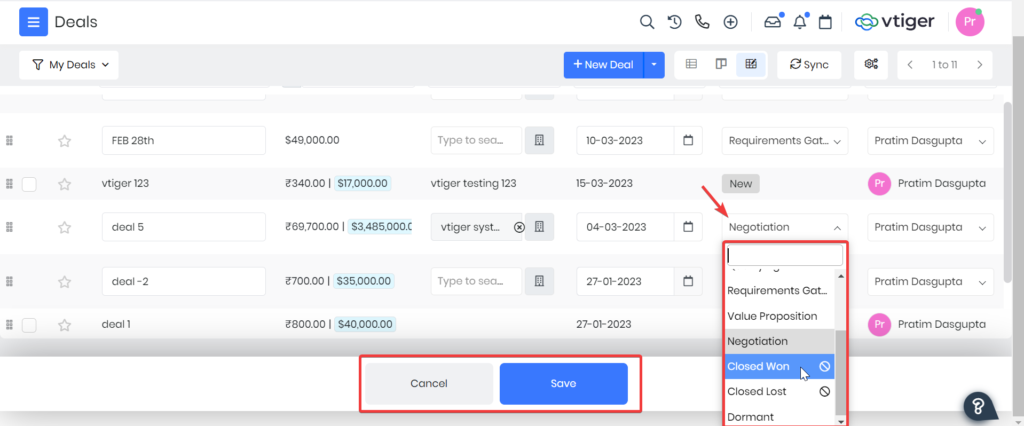 To sum it all up, Grid Edit is truly a time-saving feature that should not be overlooked and is well worth the small cost. With Grid Edit, users can start saving valuable time right away by allowing them to make necessary edits on records without the time-consuming task of opening each record before editing.
Take Vtiger for a Test Drive Today

Click here to sign up for a 15-day free trial or try our forever free Pilot edition.