In the current age of virtual meetings, video conferencing apps have become an integral part of the business sphere. There is a wide range of external applications to conduct sales calls, onboarding sessions, demo presentations, etc., from remote locations. Online meetings have really made our lives easier by facilitating meaningful conversations sitting in the comfort of our homes.
Since most of our work revolves around a CRM application, what if I tell you that you can create or schedule meetings directly from CRM?
Yes, that is made possible by Vtiger CRM by integrating external video conferencing applications. There are many apps that Vtiger has integrated like Google Meet, JioMeet, Zoom, etc. In this blog, we will discuss Vtiger CRM integration with Jio Meet.
READ: Vtiger Google Meet integration
JioMeet Integration with Vtiger CRM can prove to be a game-changer for businesses. With this integration, users can
Eliminate toggling between different applications.
Schedule JioMeet meetings directly from Vtiger modules.
Create meeting records.
Share meeting links with participants via email.
Set up reminders.
Provide a detailed description of the event
And, more.
But, the primary advantage of JioMeet integration is to share meeting links from different Vtiger CRM modules. First, let's explore JioMeet, and then understand the core modules from which you can create JioMeet links and schedule events.
Defining JioMeet
JioMeet is a video-conferencing application that provides unlimited free calling. Besides screen sharing and scheduling meetings, it also delivers exceptional features that help customers organize their events hassle-free.
JioMeet provides a calling option that can last up to 24 hours. You can also switch devices during a meeting. For instance, if you are attending a meeting from your laptop and suddenly the battery goes off. In such cases, you can switch to mobile phones, iPad, or tablets while you are in the meeting. And, it also highlights nine active users on a single screen at once.
Now, let's understand how Vtiger CRM and JioMeet combination works.
There are four core Vtiger modules from which you can create and share JioMeet links with your participants. They are:
Events module
Contacts or Deals module
Emails
Live Chats module
---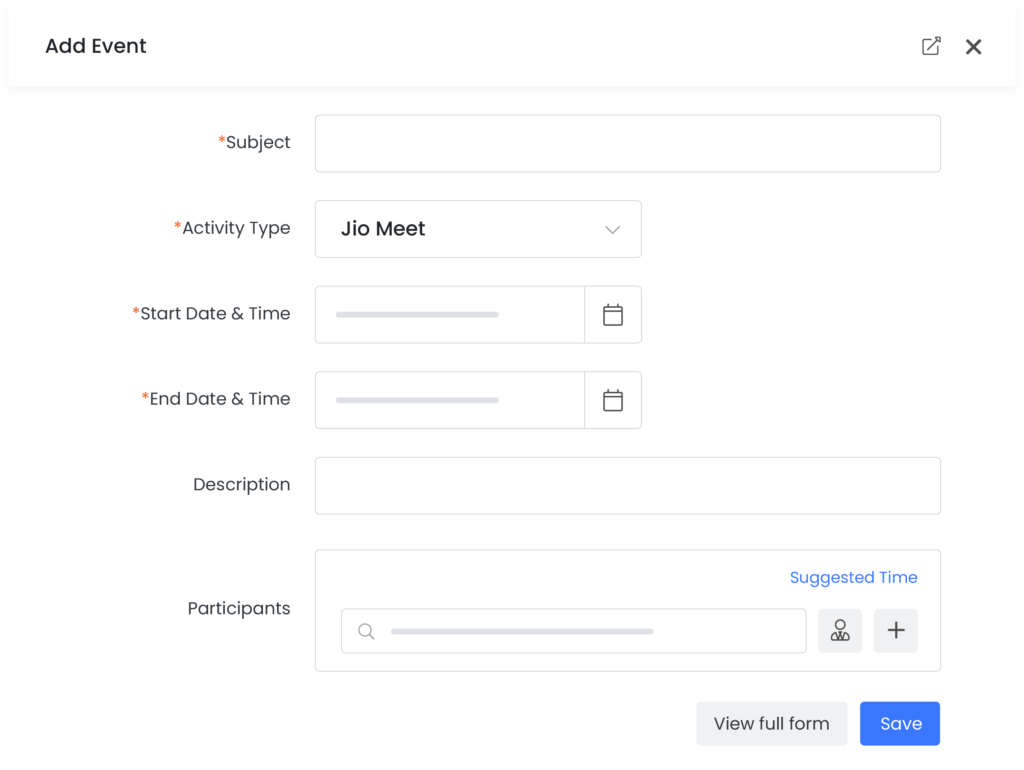 In the Events module, you can quickly create an event by clicking on Add Event. For example, if you want to discuss sales quota with your team members you can create an event and add all your team members.
You can include relevant information like Name of the event, add participants using Assigned To, Start and End Date, meeting agenda, etc. In the Activity type, you need to select JioMeet to create meeting links.
---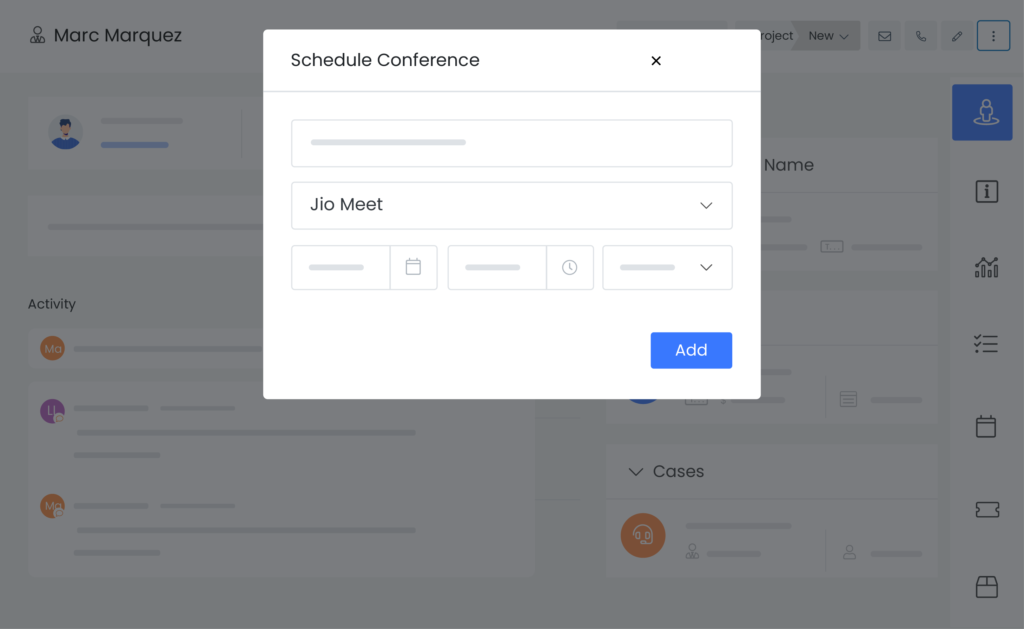 In the Contacts or Deals modules, if you want to have a one-on-one session with your contacts or deals, you can visit the Summary View of a record. For instance, if you want to give a demo presentation to one of your deals or solve a query for your customer live, you can get in touch with them individually via JioMeet.
You can create an event by clicking on Log a Meeting or Schedule Conference mentioning all the required details. And, after adding all the information, you can send an invite prior to the meeting. This way your participants can stay updated and plan their meetings for a day or week smartly.
---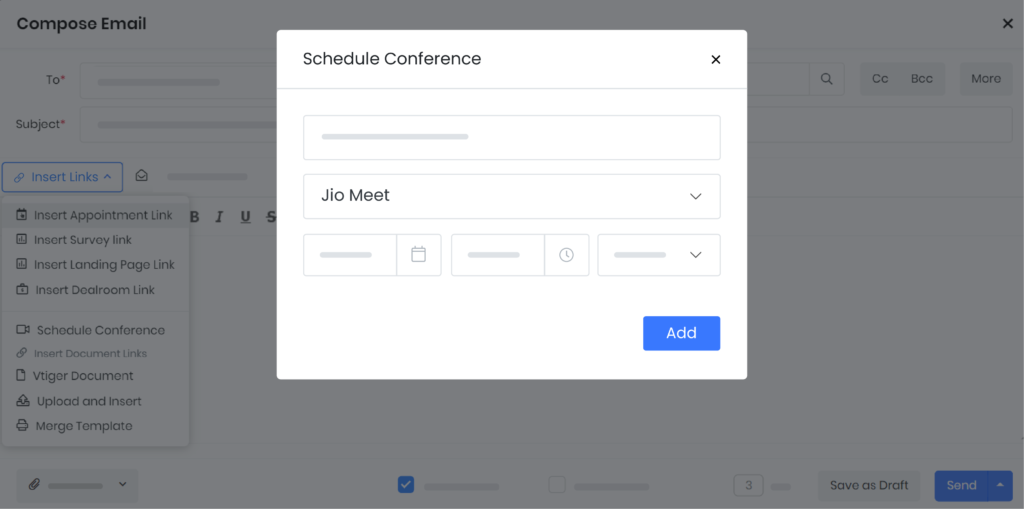 Vtiger CRM also allows you to share meeting links through emails. Since sending emails shows a sense of professionalism, you can create links from the email window and share meeting links with your leads or contacts.
---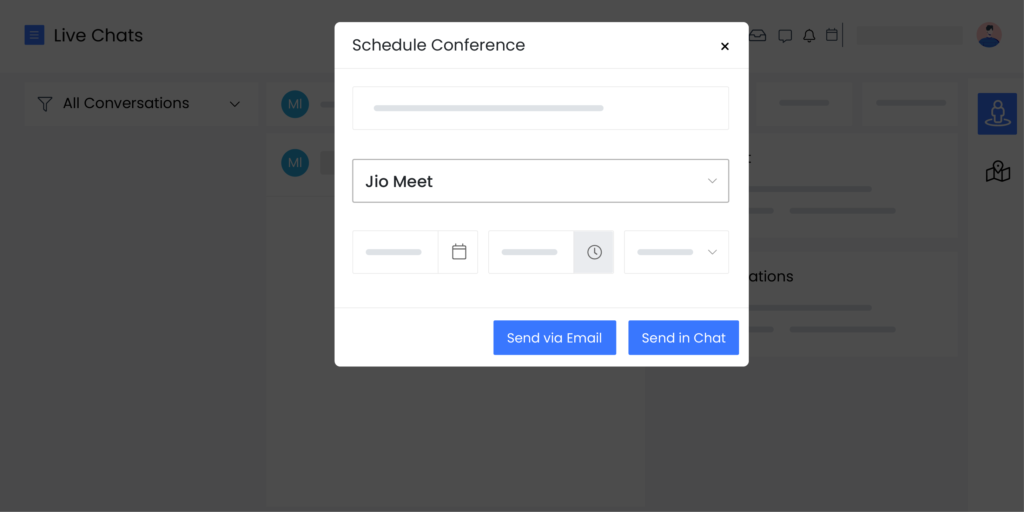 Finally, while chatting with your customers, if they suddenly ask you to join for a call to show you the issue they are facing with the product they purchased from you, you can create a link from the Live Chats module and share it from the chat window.
---
Vtiger CRM also gives you the option to delete the scheduled meeting. Or, if you no longer want to use the JioMeet application, you can deactivate it as well.
Excited to know more about Vtiger JioMeet integration?
Check out the step-by-step guide
In a nutshell, Vtiger JioMeet integration provides seamless communication for businesses. With the ability to schedule meetings, set reminders, share screens, etc., customers can streamline their activities and engage effectively. Overall, Vtiger JioMeet integration is great to enhance your communication and collaboration capabilities.