Customers are the lifeblood of an organization and customer satisfaction can make or break a business. If they get quality service, they are more likely to return or recommend your business to others.
According to a Forbes report,
Organizations ignored 65% of customer emails. They researched an organization and found that of the 527 emails sent, only 147 received responses.
If you also fail to respond to your customer's emails, it's high time for you to start addressing that issue.
Why customer service is important
As mentioned above, excellent customer service can drive your business to success, while poor service can lead to lost sales, negative reviews, and a bad reputation. Also, with the prevalence of social media, bad customer service can spread like wildfire and impact the business among potential customers.
Yes, you can reach out to your customers in many ways, like social media, phone calls, etc. Still, email communication remains the most sought-after platform for carrying out professional communication. And, if you have email templates handy, it will be easy for you to draft an email quickly for different occasions.
How to enhance customer service with email templates
Building email templates for your business will not only save you time, but you can store it as well. Whether it's a thank you email for subscribing to your newsletter or regular business communication, having customized templates can make you more efficient and productive.
What are the customer service templates that you must have for your business? Let's look at it.
Top 4 customer service email templates for businesses
Here are a few service email templates you can keep in your email template repository. You can have templates for:
Autoresponder emails: Auto-responder emails can help you answer your customers on time without causing any delay. For example, you can mention, "Our customer service team is working on the issue and will get back to you as soon as possible." Building a template that mentions such information will make it easier for your customers to keep track of their problems getting resolved.
Welcome emails: When your customers subscribe to your blogs or newsletters, you can send a welcome email to establish a meaningful customer relationship.
Refund emails: All your customers will not be satisfied with your service and may ask for a refund. Create a template for refund emails acknowledging their refund requests.
Customer feedback: When you have confirmed all customer issues are solved, you can set up a survey and take feedback from them. This gives you a brief idea of how your audience perceives your brand.
Vtiger CRM provides an easy solution to build email templates for different purposes. Using the Vtiger Add-Ons Publisher, you can build eye-catching email templates and publish them in Vtiger's Marketplace.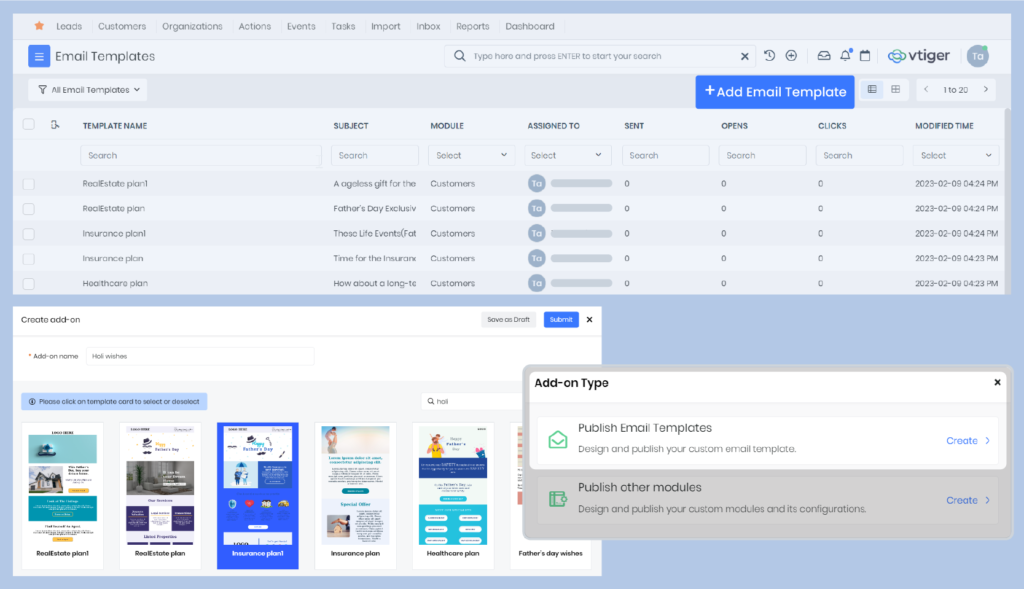 First, you can craft your template using the Vtiger Email Templates module. You can choose to create from scratch or use existing templates from the library. Using drag and drop editor, you can also beautify your template with various elements.
Second, once you have completed creating your signature templates, you can use Vtiger Add-ons Publisher to publish your templates. This platform will be of great use if you are a developer. This way, you can show your creativity and become a valuable resource in your organization.
Benefits of using customer service email templates
With email templates, you can:
Provide a personalized customer experience: You can customize your templates with different layouts, themes, backgrounds, and more. If you want to send a thank-you or refund-initiated email, you can personalize it accordingly within a few seconds.
Set up a face for your brand: With email templates, you can set up a face for your brand by adding brand colors, logos, fonts, etc., to help you build brand recognition. A well-designed email template can be visually appealing and add a sense of professionalism.
Save time: Customer reps can save time and increase response times with email templates. They will not have to draft the content from scratch every time, which is definitely a relief.
Do you want to build email templates for business?