Every day, a company's sales and support teams can make and receive hundreds of phone calls. Sales associates make dozens of cold calls, follow-up calls, negotiation calls, and other traditional sales calls. Customer support team members receive numerous customer query calls. So, to have an efficient telephone infrastructure and reduced operating costs, companies deploy Private Branch Exchange (PBX) systems or Voice over IP (VoIP) systems. However, if the calls that go through such telephony systems are not logged in the company's CRM system, then the customer facing team members are missing out on opportunities to delight customers with faster service, and managers can't access crucial data that could help in evaluating and improving company performance.
Vtiger's Phone calls module brings all your telephone communications right inside the CRM to create a unified customer database for sales and support excellence. Your sales and support team members can make and receive calls on a click with Vtiger's Phone Calls module. Because all customer related data is already present in the CRM, during customer calls, sales and support associates can pull relevant data quickly without having to switch between systems. After a call is complete, it is automatically logged in Vtiger and attached to the related contact, making the call recordings always available for future reference.
Plugging the telephony service that you use such as Twilio, Plivo, ViciDial, and Asterisk, into Vtiger's phone call module has many benefits. Here are the three key benefits:
Save time by eliminating manual tasks:
When you make or receive calls in Vtiger, you would be spending more time talking to customers and less time dialing calls, creating records in CRM, and manually logging every call. Here's how:
Click-to-call option:
Vtiger's click-to-call option saves sales associates several minutes which would otherwise be spent on searching contact numbers and then manually dialing every one of them. With Vtiger's click to call option, you can quickly place a call by simply clicking on the phone number saved in the Contact record.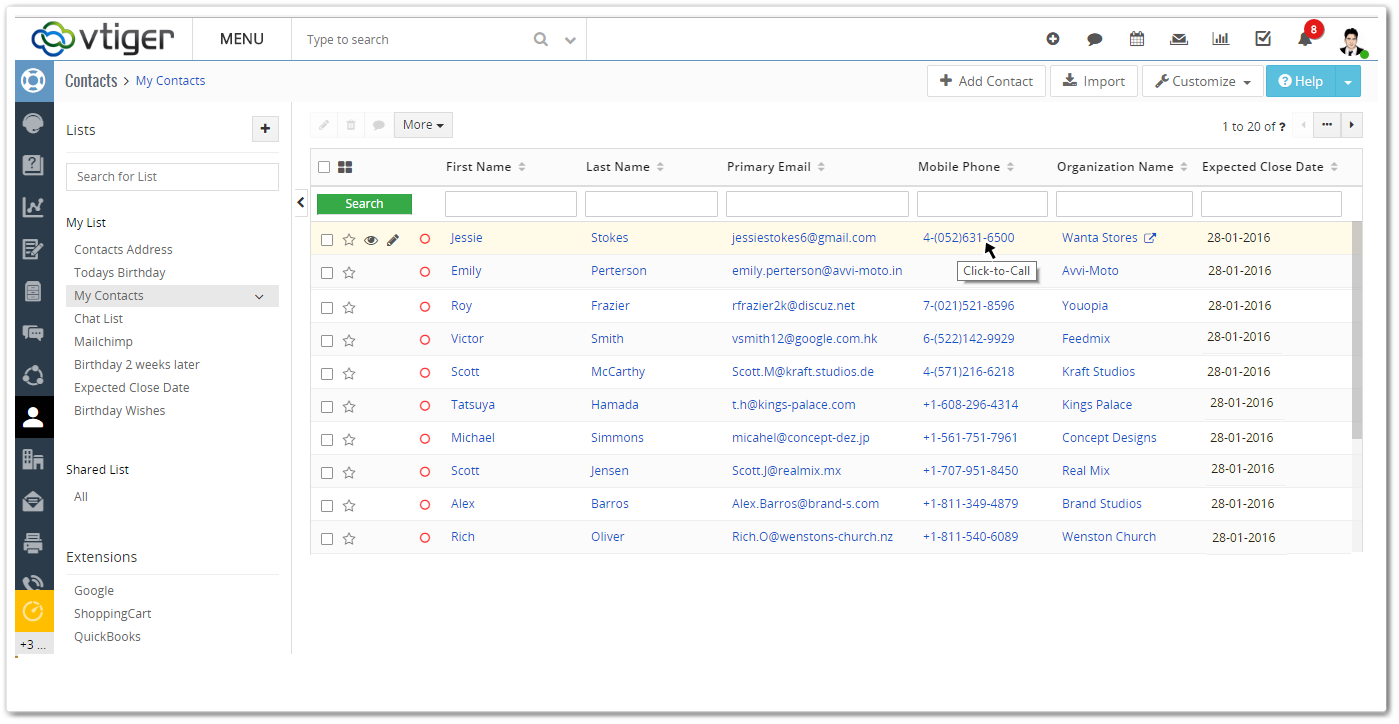 Auto create Case/Opportunity from inbound calls:
Vtiger allows your support agents automatically create a case from every call they receive. This means that the support agent can pay full attention to the customer's questions and provide better support without worrying about entering data in the CRM.
Auto log calls:
Every call that goes through Vtiger is auto logged in the Phone Calls module and appended to the related contact. Eliminating the need to manually log every sales call made and every support call received can free up a lot of time that could be better spent on building a stronger relationship with the callers.

Delight callers by being prepared for the call:
When a customer calls you, what do you think he would like to hear – "Hello who is this?" or "Thanks for calling us, Ari. How may I help you today?" I know you picked the latter. We all know that it's the age of the customer and businesses feel the need to personalize every customer interaction more than ever before. When you integrate the telephony service into Vtiger, for every inbound call you see a popup displaying caller's name and other basic information drawn from the CRM. Before receiving the call, the agent can quickly pull other information related to the contact and predict the context of the call. Let's say a sales associate gets a call. Since the popup shows the caller's name and deal size, the associate easily identifies the caller as a lead who is negotiating quote and has sent a proposal after a recent meet. This gives the basic information that the associate can use to predict the purpose of the call. Next, the associate can take a couple of seconds to glance through the notes that were prepared after discussing the proposal with the manager. On answering the call, the associate can greet the caller by name and quickly get to the point and offer the counter proposal. In this particular case, though the call was unexpected at that moment, the sales associate could use CRM data to prepare herself to take the call within a few rings of the call. This preparedness of the sales associate, even when caught off guard, leaves a long-lasting positive impression on the caller.
Improve team efficiency with call insights:
Sales and support managers look for metrics such as the average number of calls sales associates make in a week, average customer calls support agents attend in a day, and more to gain insights into their team performance. Since Vtiger's telephony integration brings all call records right inside the CRM, managers can automate report generation process to regularly monitor call volume, wait time, and other call activities. Also, with direct access to call recordings, managers can evaluate the quality of calls and can chime in at times to show how the quality of the call could be improved.
Vtiger telephony integration saves time, improves team efficiency, and creates a comprehensive customer database that is always reliable to make data-driven decisions. To learn how to integrate the telephony service you use with Vtiger read our documentation. Have any questions? Drop in a comment or write to us at support@vtiger.com