While running a business, you tend to assume that you have done possibly everything to satisfy your customers. Your team is working day and night to provide the best service possible.
But, how can you be sure your customers are satisfied with your services? How do you know they are having amazing experiences? What do they like and dislike about your products and services?
It is highly important to consider these questions before jumping into crafting a business strategy.
So, what is the best possible way to understand customers' requirements? Customer feedback can be of great help in understanding their needs and demands. You can use this information to brainstorm unique ideas aligned with their needs, develop a product, and build a loyal customer base.
What is customer feedback
Customer feedback is issues or insights provided by customers about their experience with your product or service. It can include positive or negative feedback, including suggestions for improvement.
Many organizations may find a decline in sales or simply not have the right customers. The reason could be they may not have paid attention to their requirements.
Collecting customer feedback should be taken as a first priority in every organization. By listening to them, you can ensure your products are aligned with what customers truly want. With customer feedback you can: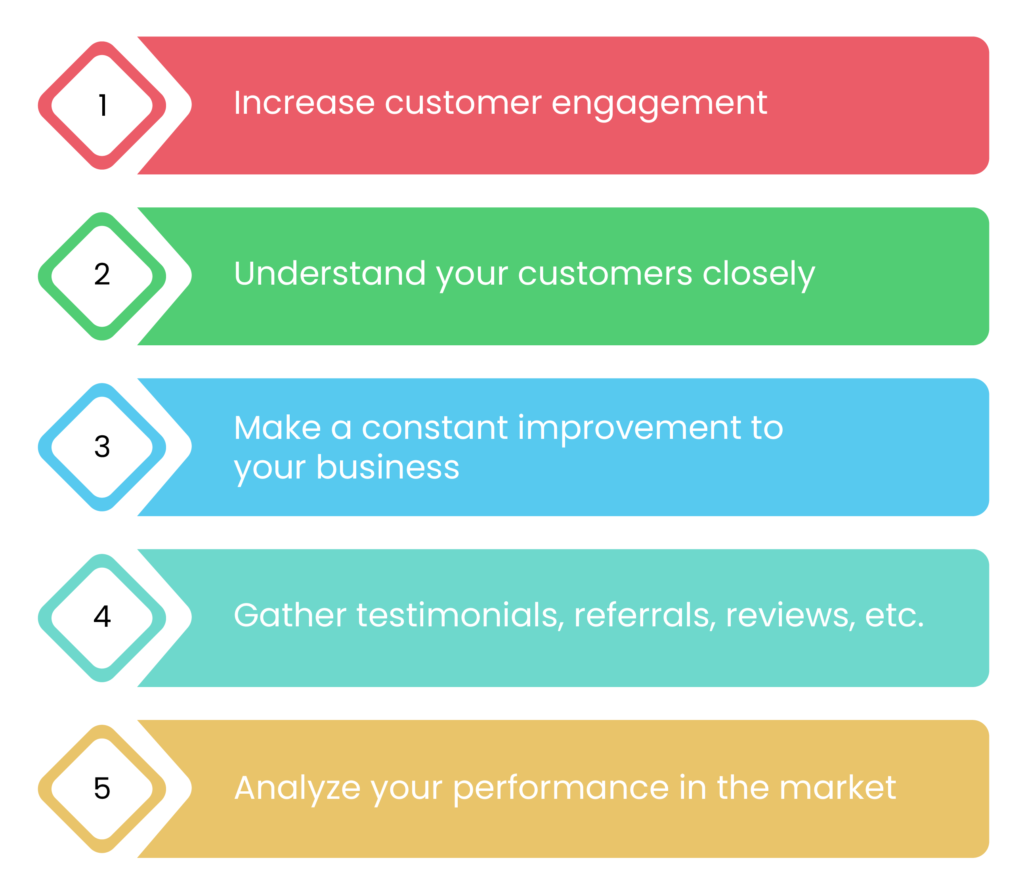 Smart ways to collect customer feedback
So, if you are wondering how to collect feedback from your customers, fret not. We have got you covered.
There are several ways you can take feedback from your customers. They are:
Surveys
Surveys can be conducted online or through paper forms, and you can ask specific questions about the customer's experience with a product or service.
For instance, many organizations conduct a post-purchase survey to gather feedback on the customer's experience with the product or service. They may ask questions such as, "How satisfied were you with your purchase?" or "Would you recommend our product to others?"
Social Media
Customers may scroll through Twitter, Facebook, and Instagram and leave their comments in the comment sections or message you individually. Businesses can track these channels and see what customers are saying and respond accordingly.
Social media can be a powerful tool for gathering feedback. Like, you can monitor Twitter to see what customers are saying about your brand or products. If customers are posting negative comments, you can address their concerns in real time.
Online Reviews
Reviews are another way to gain customer insights. You can leave reviews on social media platforms, websites, or third-party review sites. Google reviews are a great example of online reviews. It allows customers to rate and leave their comments. Also, other potential buyers will be confident enough to make a purchase from you even before fixing the deal.
Emails
Emails are a professional way to engage with customers. After a purchase or interaction, you can send a link to take a survey or request feedback.
You may have seen emails asking you to rate them on a scale of one to ten. Ask questions such as, "How likely are you to recommend our services to your friend?" Or "How satisfied were you with the purchase?" This way, you can calculate the score and gauge customer interest
Phone Calls
If no other ways are working in your favor, you can call your customers and ask for feedback directly. This will be useful in getting detailed feedback and addressing issues the customers may face.
Vtiger CRM has a Survey module from which you can easily create, and customize survey forms by asking questions that match your business. You can add a logo to your survey form, personalize your message to each and every customer, and generate a link to share via email. You can even close the survey if you no longer want your customers to take it.