Holi, also known as the Festival of Colors and the Festival of Love, is one of the most widely recognized festivals celebrated in India and other parts of the world. It is a joyous occasion marked by vibrant colors, delicious food, and a sense of togetherness among people of all ages and backgrounds.
The festival signifies the end of winter and the arrival of spring in India. It is celebrated for two days, typically in late February or early March, with Holi falling on the full-moon day.
The first day, known as Holika Dahan or Chhoti Holi, involves lighting a bonfire. The bonfire is made with old things that are found at home – broken prices of furniture, brooms, and discarded pieces of clothing. They symbolize the victory of good over evil, the arrival of spring, and a good spring harvest to come.
The second day, known as Rangwali Holi or Dhulandi, is when people play with colors, water guns, and water balloons.
The History
The origin of Holi dates back to Hindu religious literature. The word Holi is derived from the Sanskrit word Holika, which refers to the evil sister of the demon king Hiranyakashipu in Hindu mythology. 
The story of Holika's death is celebrated on the eve of the Holi festival in a ritual called Holika Dahan, where people light bonfires to symbolize the victory of good over evil. The next day, people celebrate Holi by throwing colored powder and water at each other, dancing, and feasting. The festival signifies the triumph of good over evil, spring's arrival, and winter's end.
Holi is also said to have started as a celebration of the love between Lord Krishna and his consort Radha. The story claims that Lord Krishna, who had a dark complexion, was envious of Radha due to her fair skin. His mother, Yashoda, suggested he apply colors to Radha's face to make her look like him. The playful act of coloring each other's faces soon became a tradition and evolved into the Holi festival.
The Significance
Today, Holi is celebrated by people of all religions and cultures in India. It is fast catching up in others parts of the world, especially where the Indian diaspora has settled.
It's a time when people come together to celebrate the spirit of love and brotherhood while setting aside differences. The festival is also an occasion for forgiveness and letting go of grudges, as people smear each other with colors and embrace each other in a spirit of camaraderie.
Overall, there is a buzz of joy and excitement in the air. Each Holi color signifies a special emotion that transcends the brightly colored faces of people to a sentiment of community, equality, and oneness.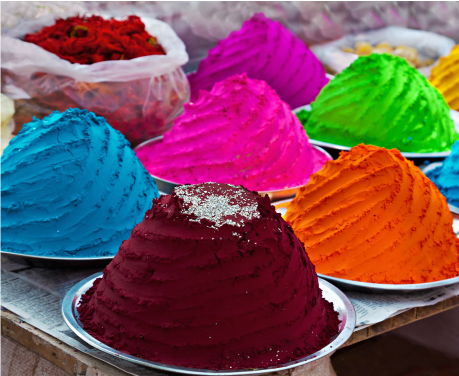 Red: Purity
Orange: Endurance
Purple: Magic
Blue: Calmness
Green: Vitality
Yellow: Happiness
Pink: Love
The Modern-day Holi – a Celebration of Togetherness
Preparations for Holi usually begin a few days in advance, with people buying powder of color, water guns, and sweets. On the festival day, people dress up in white clothes and gather at events, in public spaces, or in their homes to play with colors.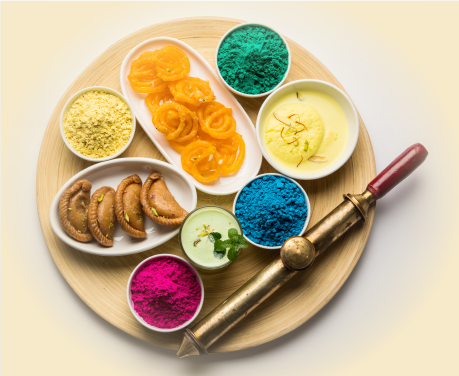 Holi is the time for feasting on traditional sweets like Gujiyas. And the specialty of Holi is Thandai, a sweet and spicy milk-based drink, that is prepared and shared among family and friends.
The Environmental Impact
The main concern arising from celebrating Holi is the use of artificially manufactured colors or synthetic colors. These powders often contain chemicals that harm both people and the environment. These colors irritate our skin and eyes. Some of them damage plant life and micro-organisms in the soil.
Traditionally, colors were made from plants, flowers, and vegetables like turmeric, rose petals, beetroot, neem leaves, etc. To meet the market demand, and reduce the time taken to produce colors from natural materials, chemical pigments, and dyes were used to manufacture colors on a large scale.

To make Holi more inclusive, environmentalists are making efforts to promote safe and respectful celebrations that do not harm people or the environment. Today, it is common to find colors made of natural elements instead of artificial chemicals.
Do you know you can make red, yellow, green, grey, magenta, pink, and other colors at home? Click here to know how.
Have you played Holi?
Holi is a vibrant and colorful festival that celebrates the spirit of love, unity, and togetherness.
It is an occasion to forget one's differences and come together in a spirit of camaraderie, forgiveness, and joy. As we celebrate this festival, let us remember to respect the environment and celebrate in a sustainable and eco-friendly way. Happy Holi!