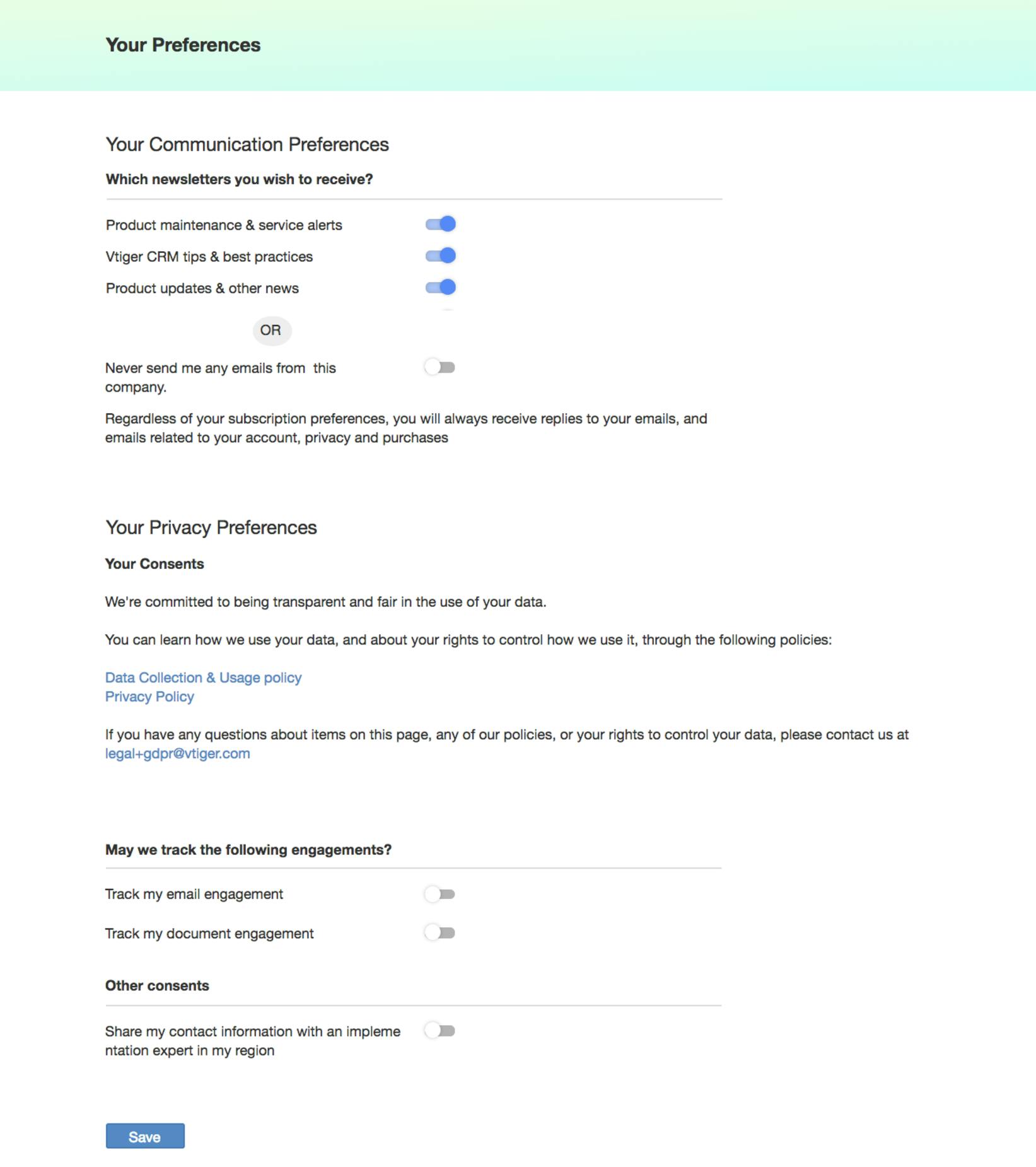 Use consent as a lawful basis for processing
Let your contacts control their privacy preferences from their preferences page - accessible in an emailed link. Customize this page to let them control their communication preferences and provide consents for data storage, usage, tracking, and other purposes.
Automatic, just-in-time consent requests
Automatically request consent the moment it's needed. This saves your employees time making the request and maximizes your contacts' likelihood of consenting.
Let contacts manage their consents
Contacts can return to their preferences page at any time to change their consents, freeing up your employees up from having to act as an intermediary.
Easily access consents
Never go looking for a contact's consents. They're all shown directly in the contact's record alongside their other data.
Easily act on, and even automate taking action on consents
Whether it's erasing a piece of sensitive data, sharing data with third parties, or locking a contact's record, workflows and pre-built automations instantly act on a contact's consents, saving your team time doing the work, and your business the risk and cost of non-compliance.
Automate the exercising of GDPR rights
You can comply with all of a contact's GDPR rights from any version of Vtiger. However, Vtiger's Privacy Guard extension enables new ways to comply that save you time and preserve useful data.
Right to object to processing
Automate the process of collecting and acting on your contacts' objection to processing. When contacts submit a request from their preferences page, Vtiger will automatically lock records and opt them out of your email campaigns, saving you the time required to take action, and the risk of not complying.
Right to be forgotten
Contacts can submit a request for erasure from their preferences page, tagging their record. Users can act on these requests individually, or in bulk, to rapidly erase personally identifying data while keeping other important non-identifying but strategically essential data in tact.